Petrochemistry 2020
Petrochemistry 2020 is delighted to welcome the participants from all over the world to attend the prestigious 10th International Conference on Petrochemistry and Natural Resources, August 19-20, 2020.
During World War II, the demand for synthetic materials to replace costly and sometimes less efficient products was a catalyst for the development of petrochemicals. Before the 1940s it was an experimental sector, starting with basic materials
Synthetic rubbers in the 1900s
Bakelite, the first petrochemical-derived plastic in 1907
the first petrochemical solvents in the 1920s
And polystyrene in the 1930s…
And it then moved to an incredible variety of areas – from household goods (kitchen appliances, textile, furniture) to medicine (heart pacemakers, transfusion bags), from leisure (running shoes, computers…) to highly specialised fields like archaeology or crime detection.
The study of oil
Put simply, petrochemistry refers a branch of chemistry that focuses on how crude oil and natural gas are transformed into raw materials and other useful products. Today, such resources are considered an integral part of the modern economy which makes petrochemistry an incredibly valuable field.
The basics
To understand the field of petrochemistry it's important to comprehend what petroleum is and where it comes from. Over millions of years, natural changes in organic materials have produced petroleum which has accumulated under the earth's surface. Petroleum rich areas are generally found in regions that support retention, such as porous sandstones.
Crude oils are naturally occurring liquids made up of various hydrocarbon compounds that differ in appearance and composition. Average composition rates are 84% carbon, 14% hydrogen, 1%-3% sulphur, and less than 1% each of nitrogen, oxygen, metals and salts. Depending on the sulphur content crude oils are either categorised as sweet or sour.
The early days
1859 saw the world introduced to its very first oil commercial, just two years after the first oil refinery was constructed. When petrochemistry first emerged as a scientific field in the 1900s it was used to develop basic materials such as synthetic rubbers. In 1907 scientists developed the first petrochemical-derived plastics, the 1920s saw the successful creation of petrochemical solvents and the 1930s gave way to polystyrene. The industry then began to boom, with petrochemistry used to produce a myriad of materials used to manufacture everything from furniture, textiles and kitchen appliances to transfusion bags and pacemakers.
The petroleum revolution
In the late 1940s the industry flourished, with WWII fueling demand for petrochemicals. This was largely due to skyrocketing demand for synthetic materials. During this period the petrochemistry field underwent serious advancement. Now petrochemistry is used to support highly specialised fields such as crime detection and archaeology.
If you're interested in knowing more about how science is used in the modern economy, 'Overview of Most Commonly Used Analytical Techniques for Elemental Analysis' explores how element determination and quantification is of integral importance to various fields. It offers readers an overview of commonly used techniques, including atomic spectroscopy and X-ray fluorescence spectrometry.
Young Scientist Benefits:
Our conferences provide best Platform for your research through oral presentations.
Share the ideas with both eminent researchers and mentors.
Young Scientist Award reorganization certificate and memento to the winners
Young Scientists will get appropriate and timely information by this Forum.
Platform for collaboration among young researchers for better development
Award should motivate participants to strive to realize their full potential which could in turn be beneficial to the field as whole.
Enable GingerCannot connect to Ginger Check your internet connection
or reload the browserDisable in this text fieldEditEdit in GingerEdit in Ginger×
Industry Insights
The global petrochemicals market size was valued at USD 539.3 billion in 2018 and is anticipated to register a CAGR of 8.5% over the forecast period. The market is driven by increasing product application in major end-use industries such as construction, automobile, and chemical intermediate manufacturing. Ethylene dominates the market in terms of value and volume, owing to its demand as a feedstock in the aforementioned end-use industries.
Petrochemicals are chemical compounds derived from feedstocks such as crude oil, natural gas and gasoline. Petroleum is the basic raw material to produce olefins such as ethylene, propylene, and aromatics, including benzene, xylene, and toluene. These chemicals are utilized across all sectors including construction, automotive, agriculture, electrical and electronics and significantly impact the growth and development of these industries.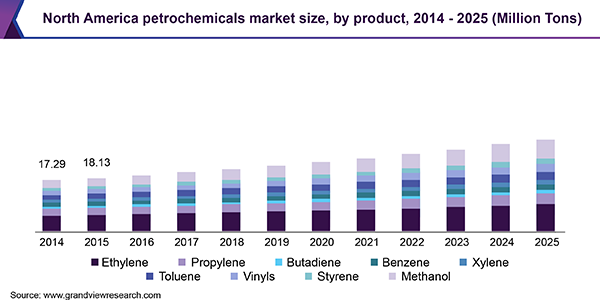 Product Insights
Polyethylene emerged as the leading application segment in the petrochemicals market, which is produced by the polymerization of ethylene in the presence of catalysts. Rising demand for high-density polyethylene (HDPE) in blow molding and injection molding applications, such as containers, drums, household goods, and caps, is anticipated to significantly drive polyethylene consumption. Ethylene oxide and ethylbenzene are also major products manufactured from ethylene. These have prominent use in manufacturing of agrochemicals, industrial chemicals, and sterilizers for the medical industry.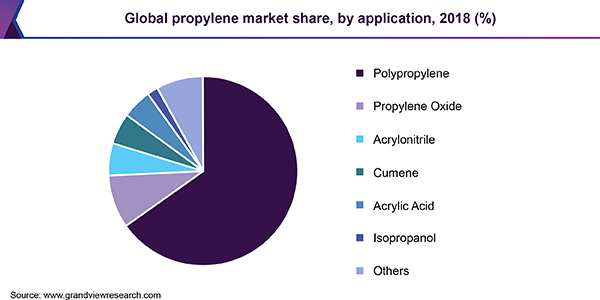 Petrochemicals Market Share Insights
The industry participants are majorly focusing on the development of new technologies to manufacture bio-based petrochemicals. Major factors influencing the competition include pricing structure, feedstock supply, and manufacturing technologies. Large petrochemical producers such as INEOS and SABIC have integrated their operations producing both primary petrochemicals and their derivatives. Companies are also engaged in capacity expansions to take advantage of future opportunities. Major players are investing in setting up manufacturing units in developing economies of Asia Pacific and Latin America.
Some of the key industry participants are Qatar Petroleum, Royal Dutch Shell, and ExxonMobil, along with PetroChina and Saudi Aramco. Other manufacturers include SABIC; Kumho LyondellBasell Industries Inc.; and INEOS Group
To share your views and research, please click here to register for the Conference.
To Collaborate Scientific Professionals around the World
Special Issues
All accepted abstracts will be published in respective Our International Journals.
Abstracts will be provided with Digital Object Identifier by